California Honors HARVEY MILK'S Life & Legacy: Quotes, Books, Movies & Death
During Pride Month and always, California honors the life and legacy of Harvey Milk. In this article, we will talk about HARVEY MILK DAY, HARVEY MILK QUOTES, HARVEY MILK BOOKS, MOVIES about HARVEY MILK & HARVEY MILK DEATH. Harvey inspired LGBTQI people in California and elsewhere to fight for their rights, and show defiantly they would not be silenced, intimated, or pushed into the corner. In a recording, he made just before he was killed (something he long suspected would happen), Harvey Milk said the movement he led was about giving people hope. The stigma associated with the LGBTQI and the mental health community is no different. Research has shown that the LGBTQI community is less likely to seek treatment for gambling/sex disorders, mental health disorders, or substance abuse disorders due to fear of rejection and discrimination.
So why does Pride Month take place in June?
This month, June 2021 marks the 51st celebration of Pride Month — a time when millions of people come together in support of the LGBTQI (Lesbian, Gay, Bisexual, Transgender, Queer, and Intersex) community.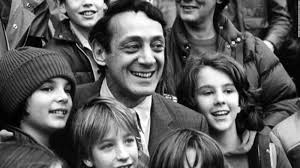 It goes back to June 28, 1969, when police raided a gay club called the Stonewall Inn in New York. Though the police claimed the bar was operating with an improper liquor license, the raid was about nothing more than violently harassing and arresting LGBTQ people in one of the few places where they felt safe. Similar raids on gay-friendly businesses had been occurring for decades, but Stonewall was one of the first times when the patrons fought back. A diverse crowd of lesbians, gay men, and transgender women, many of whom were people of color, clashed with the police, threw bottles, and refused to be intimidated. The six-day period of protests and demonstrations is now known as the Stonewall Riots. A New York rally held the next year to commemorate the first anniversary of the riots started the now-regular tradition of Pride Month.
Decades later those words gave us hope as gay people fought for marriage equality in the face of huge opposition. It was a battle we ultimately won, but in the face of attacks against transgender people, his lessons continue to resonate.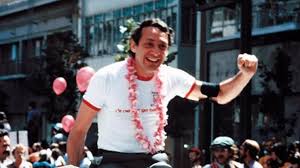 Harvey Milk day
May 22 is Harvey Milk Day in California. Born on May 22, 1930, the native New Yorker rose to become an outspoken human rights activist and an impassioned champion of LGBTQ rights. Milk was assassinated in 1978, just one year after being elected to the San Francisco Board of Supervisors. More than 40 years after his death, Milk continues to be celebrated as an inspirational and courageous leader in the fight for equal rights. As one of the first openly gay politicians in the country to be elected to public office, Harvey Milk was a trailblazer for the LGBTQ community. To commemorate "Harvey Milk Day," we curated a list of quotes, books, and movies that will help you learn more about this LGBT icon.
Harvey Milk quotes
"All young people, regardless of sexual orientation or identity, deserve a safe and supportive environment in which to achieve their full potential."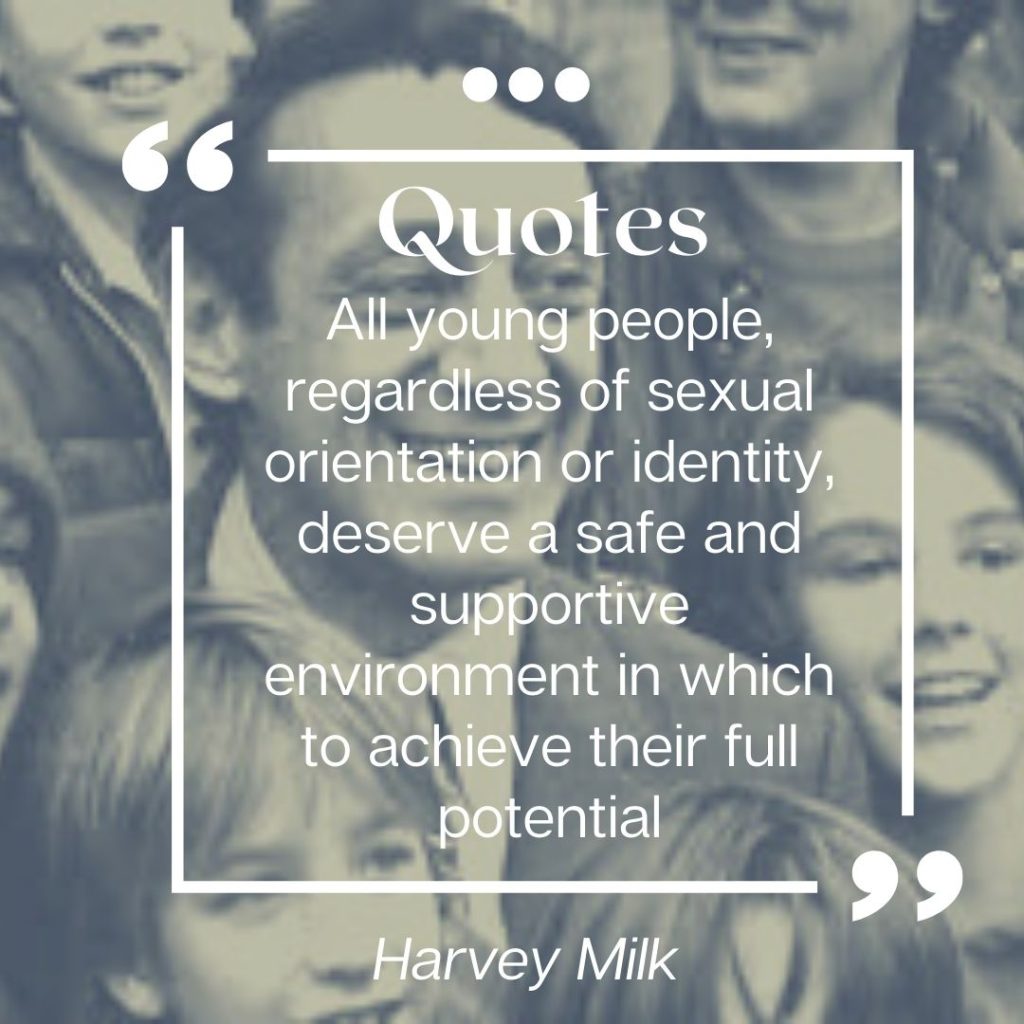 "The fact is that more people have been slaughtered in the name of religion than for any other single reason. That, that my friends, that is true perversion!"
"Gay brothers and sisters,… You must come out. Come out… to your parents.. Come out to your relatives… come out to your friends… if indeed they are your friends. Come out to your neighbors… to your fellow workers… to the people who work where you eat and shop… come out only to the people you know, and who know you. Not to anyone else. But once and for all, break down the myths, and destroy the lies and distortions. For your sake. For their sake."
"Coming out is the most political thing you can do."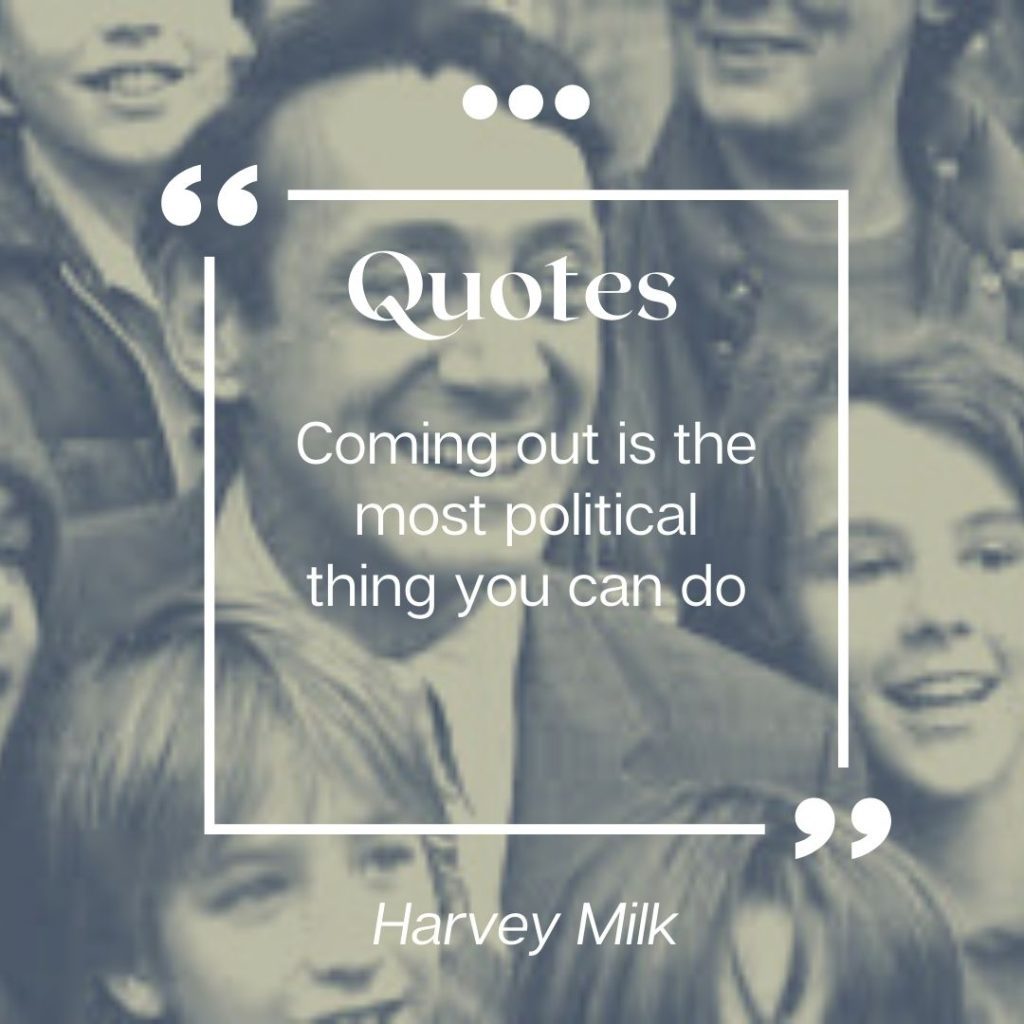 "All men are created equal. Now matter how hard they try, they can never erase those words. That is what America is about."
"If a bullet should enter my brain, let that bullet destroy every closet door in the country."
"It takes no compromise to give people their rights…it takes no money to respect the individual. It takes no political deal to give people freedom. It takes no survey to remove repression."
"Burst down those closet doors once and for all, and stand up, and start to fight."
"I would like to see every gay doctor come out, every gay lawyer, every gay architect come out, stand up and let that world know. That would do more to end prejudice overnight than anybody would imagine. I urge them to do that, urge them to come out. Only that way will we start to achieve our rights."
"All men are created equal. No matter how hard they try, they can never erase those words. That is what America is about."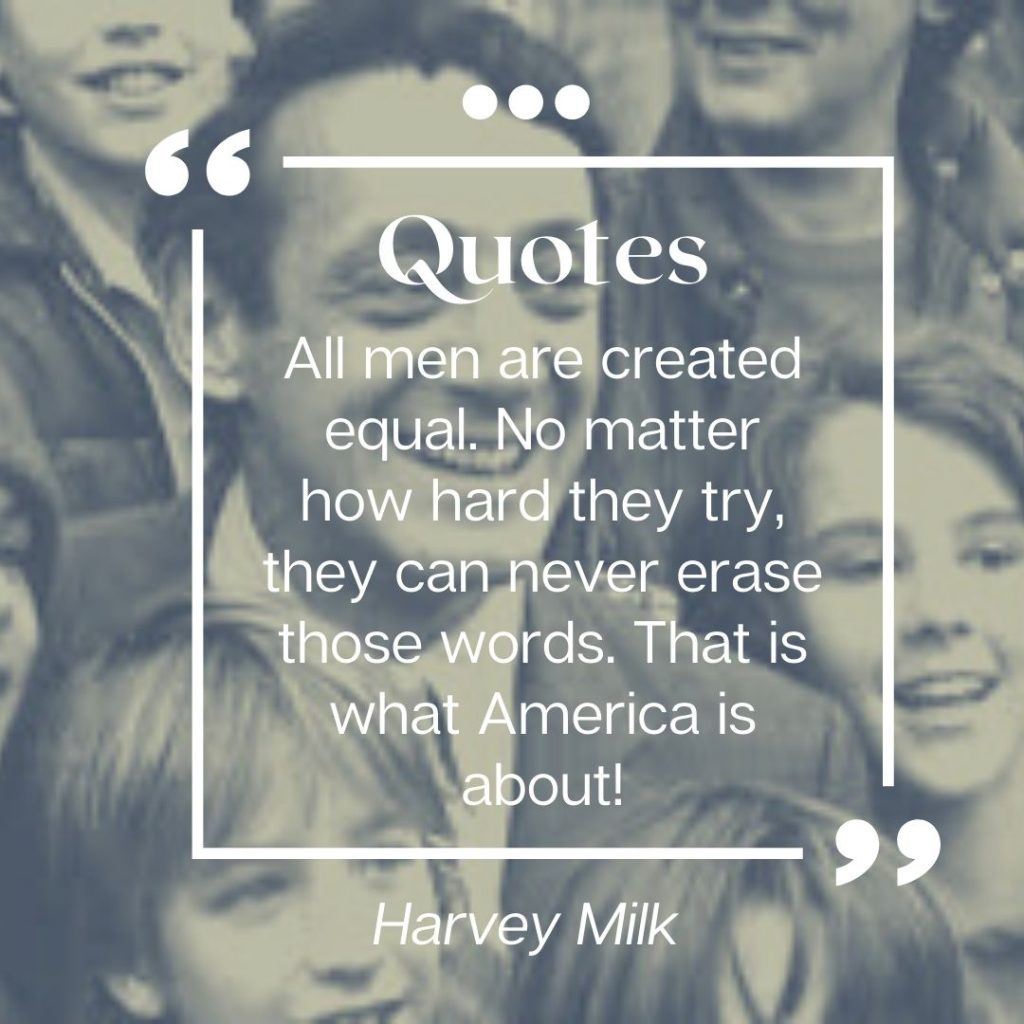 "The only thing they have to look forward to is hope. And you have to give them hope. Hope for a better world, hope for a better tomorrow, hope for a better place to come to if the pressures at home are too great. Hope that all will be all right. Without hope, not only gays, but the blacks, the seniors, the handicapped, the us'es, the us'es will give up."
"All young people, regardless of sexual orientation or identity, deserve a safe and supportive environment in which to achieve their full potential."
"Rights are won only by those who make their voices heard."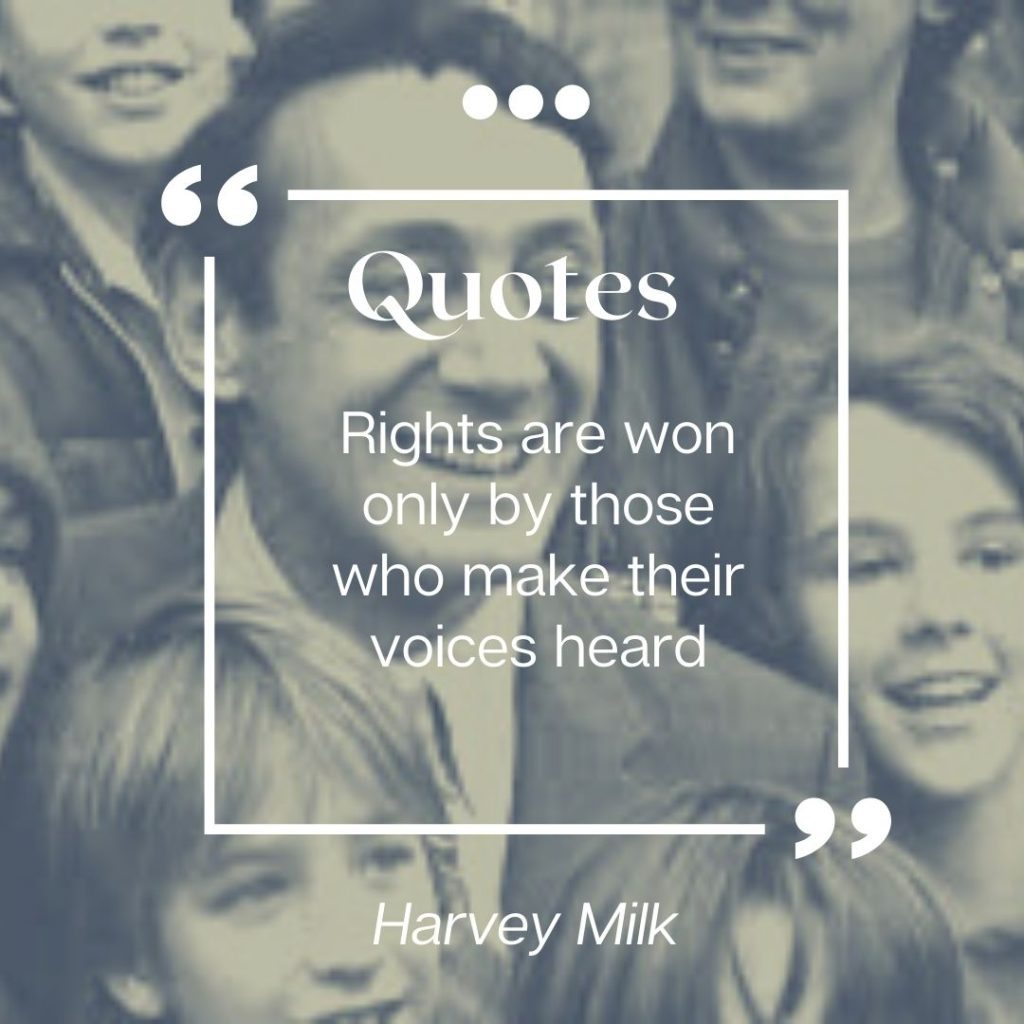 Harvey Milk books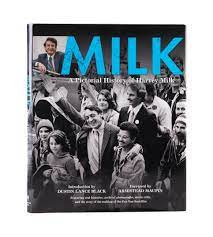 Milk: A Pictorial History of Harvey Milk byDustin Lance Black. This official illustrated companion book features oral histories, archival photographs, behind-the-scenes stills, and the story of the new Focus Features film directed by Gus Van Sant (Good Will Hunting, My Own Private Idaho), starring Academy Award winner Sean Penn (Mystic River, Dead Man Walking) as gay-rights icon Harvey Milk.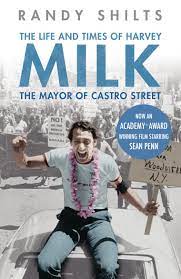 The Mayor of Castro Street: The Life and Times of Harvey Milk by Randy Shilts. Known as "The Mayor of Castro Street" even before he was elected to the San Francisco Board of Supervisors, Harvey Milk's personal and political life is a story full of personal tragedies and political intrigues, assassinations at City Hall, massive riots in the streets, the miscarriage of justice, and the consolidation of gay power and gay hope.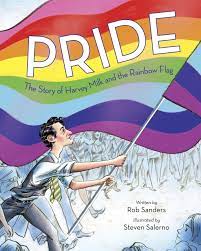 Pride: The Story of Harvey Milk and the Rainbow Flag by Rob Sanders. In this deeply moving and empowering true story, young readers will trace the life of the Gay Pride Flag, from its beginnings in 1978 with social activist Harvey Milk and designer Gilbert Baker to its spanning of the globe and its role in today's world. Award-winning author Rob Sanders's stirring text, and acclaimed illustrator Steven Salerno's evocative images, combine to tell this remarkable – and undertold – story. A story of love, hope, equality, and pride.
Who Was Harvey Milk? By Corinne A. Grinapol. Although he started out as a teacher without aspirations to be an activist or politician, Harvey Milk found himself captivated by the history-making movements of the 1960s. He would eventually make history of his own by becoming the first openly gay elected politician in California. While in office, Harvey Milk advocated for equal rights for the gay community.
Even though his life and career were cut short, Harvey is still seen by many as one of the most famous and most significantly open LGBT officials ever elected in the United States. His life and legacy continue to inspire and unite the community.
Movies about Harvey Milk
Milk is a 2008 American biographical film based on the life of gay rights activist and politician Harvey Milk, who was the first openly gay person to be elected to public office in California, as a member of the San Francisco Board of Supervisors. Directed by Gus Van Sant and written by Dustin Lance Black, the film stars Sean Penn as Milk and Josh Brolin as Dan White, a city supervisor, and Victor Garber as San Francisco Mayor George Moscone.
The Times of Harvey Milk is a 1984 American documentary film that premiered at the Telluride Film Festival, the New York Film Festival,[2] and then on November 1, 1984, at the Castro Theatre in San Francisco.[3][4] The film was directed by Rob Epstein, produced by Richard Schmiechen, and narrated by Harvey Fierstein, with an original score by Mark Isham.
In 2012, this film was deemed "culturally, historically, or aesthetically significant" by the United States Library of Congress and selected for preservation in the National Film Registry.
Harvey Milk's death
Many people know who Harvey Milk was, are familiar with his contributions to the LGBTQ+ civil rights movement, and remember that he was assassinated on 27 November 1978 after being in office for less than a year. Forty years ago—November 27, 1978—Dan White assassinated San Francisco mayor George Moscone and Supervisor Harvey Milk.
Updated 04/12/2022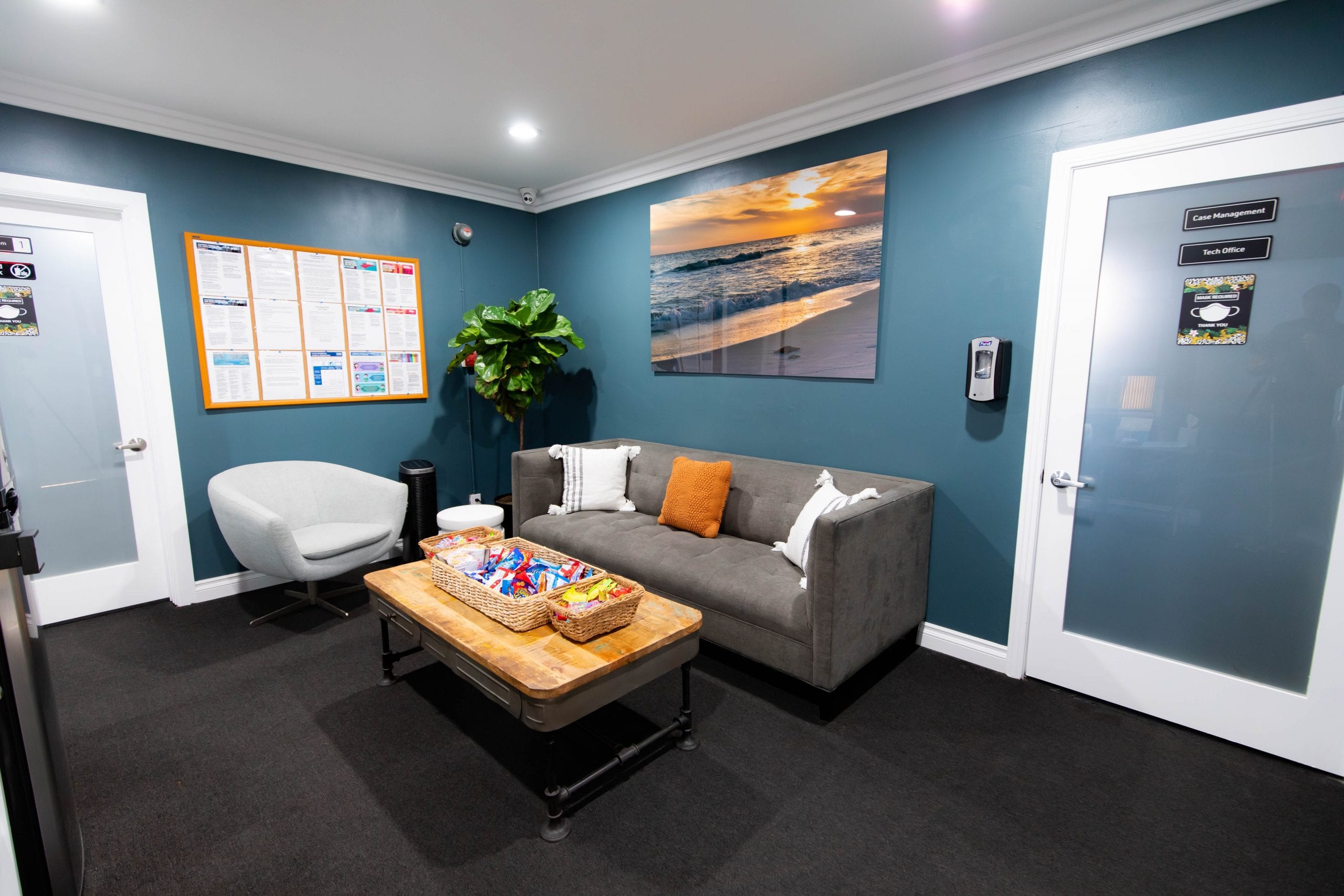 We at Overland IOP in Los Angeles California,  are committed to creating an inclusive environment for lesbian, gay, bisexual, transgender, queer, and intersex (LGBTQI+) people. We have developed and implemented LGBTQI+ inclusive policies to help to understand the challenges that LGBTQI+ people may face and the support we can offer.
Published: June 01, 2021
Last Updated: April 12, 2022