What happened to Simone Biles at Tokyo Olympics? Simone Biles's ADHD
Simone Biles, one of the greatest female gymnasts of all time, who has used her influence to speak out against injustices, arrives at her second Olympics prepared to soar, but… had a mental health issue in Tokyo, which prompted her to pull out of Olympic all-around finals. Some have suggested that Biles' ADHD or Attention-Deficit/ Hyperactivity Disorder could be to blame. The USA Gymnastics organization released a statement, saying, "After a further medical evaluation, Simone Biles has withdrawn from the final individual all-around competition. We wholeheartedly support Simone's decision and applaud her bravery in prioritizing her well-being. Her courage shows, yet again, why she is a role model for so many."
Simone Biles returned to the Olympics with a strong finish on Tuesday, July 29th. She won bronze in the balance beam finals.
Although, Biles shocked the world last week when she decided to pull out of the team event finals at the Tokyo Olympics and then withdrew from the individual all-around competition, as well as the vault, uneven bar, and floor finals, to focus on her mental health. It birthed a worldwide discussion about mental health awareness and management. But, it also gave rise to some questions, including what sparked Biles' case of "the twisties."
Simone Biles's ADHD
As we already mentioned, a 24-year-old gymnastics legend, whose motto on her official website is "Don't Flip Out," withdrew from the finals of the team competition in Tokyo on July 27, 2021.
Some have suggested that Biles' ADHD or Attention-Deficit/ Hyperactivity Disorder could be to blame. It's a reasonable conclusion given that Japan baned most of the medicines commonly used to treat this mental disorder in the US. However, it's also worth noting that Japan allows certain non-stimulant ADHD drugs, according to Team USA.
The day before it was announced that Simone Biles would return to the Olympics competition in Tokyo, a social media post suggested that she had earlier withdrawn because she was prevented from taking medication for attention-deficit hyperactivity disorder. A tweet shared on Facebook says of the six-time Olympic medalist: "So they didn't allow Simone to take her ADHD medication because it was considered a substance then become surprised when she's unable to focus and is fearful of making a bad move on the floor."
There are no statements from Biles or on her behalf regarding whether she was taking ADHD medication leading up to the Tokyo Games. There is no evidence that she was prohibited from taking any medication in Tokyo. But, let's get into the details. Biles and other Olympic athletes may have benefitted from an exception to the rule. "A special arrangement is in place specifically for the Tokyo 2020 Olympic to allow athletes taking these medicines for therapeutic use, and with an approved Therapeutic Use Exemption, to import personal supplies for the treatment of their medical condition while they are in Japan," a document provided via Team USA says.
USA Gymnastics said that in Tokyo, Biles had to withdraw due to a medical issue. In addition, team USA said she had "mental struggles."
Biles initially said she withdrew to work on her "mindfulness," alluding to stress and saying she puts "mental health first."
Later, Biles said she withdrew because of the "twisties," which she described as a dangerous condition that prevents her from doing certain maneuvers in mid-air. In addition, she said that her "mind and body are simply not in sync" and "physical health is mental health.
What Is ADHD?
Attention deficit hyperactivity disorder (ADHD) is a mental health disorder that can cause above-normal levels of hyperactive and impulsive behaviors. People with ADHD may also have trouble focusing their attention on a single task or sitting still for long periods of time. Both adults and children can have ADHD. A wide range of behaviors is associated with ADHD. Some of the more common ones include:
having trouble focusing or concentrating on tasks
being forgetful about completing tasks
being easily distracted
having difficulty sitting still
interrupting people while they're talking
Simone Biles's Stand Against ADHD Stigma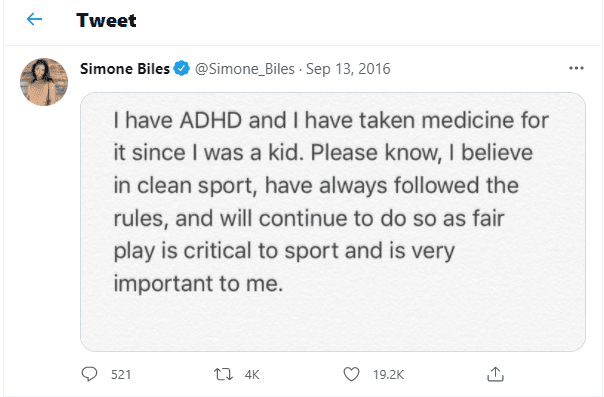 In 2016 Simone Biles had to disclose personal information about her health and confirm that she has ADHD.
After hackers circulated confidential medical records from the World Anti-Doping Agency database and tried to use Biles' prescription medication to question her credentials, Simone Biles flipped the script and used the leak to send a powerful message about stigma, mental health, and sports. Simone Biles's Stand Against ADHD Stigma by saying, "I have ADHD, and I have taken medicine for it since I was a kid."
Ritalin and ADCD Being Linked To Simone Biles' Struggles At Tokyo Olympics
Ritalin and ADHD were being linked to Simone Biles's struggles at Tokyo Olympics. It happened for a reason. An illegal release of some high-profile athletes' medical data back in 2016 showed Biles had tested positive for methylphenidate – the official name for Ritalin, a common medication for treating ADHD. The situation led the then-19-year-old star to address her ADHD diagnosis publicly and say she's taken the medication since she was a child to manage her symptoms.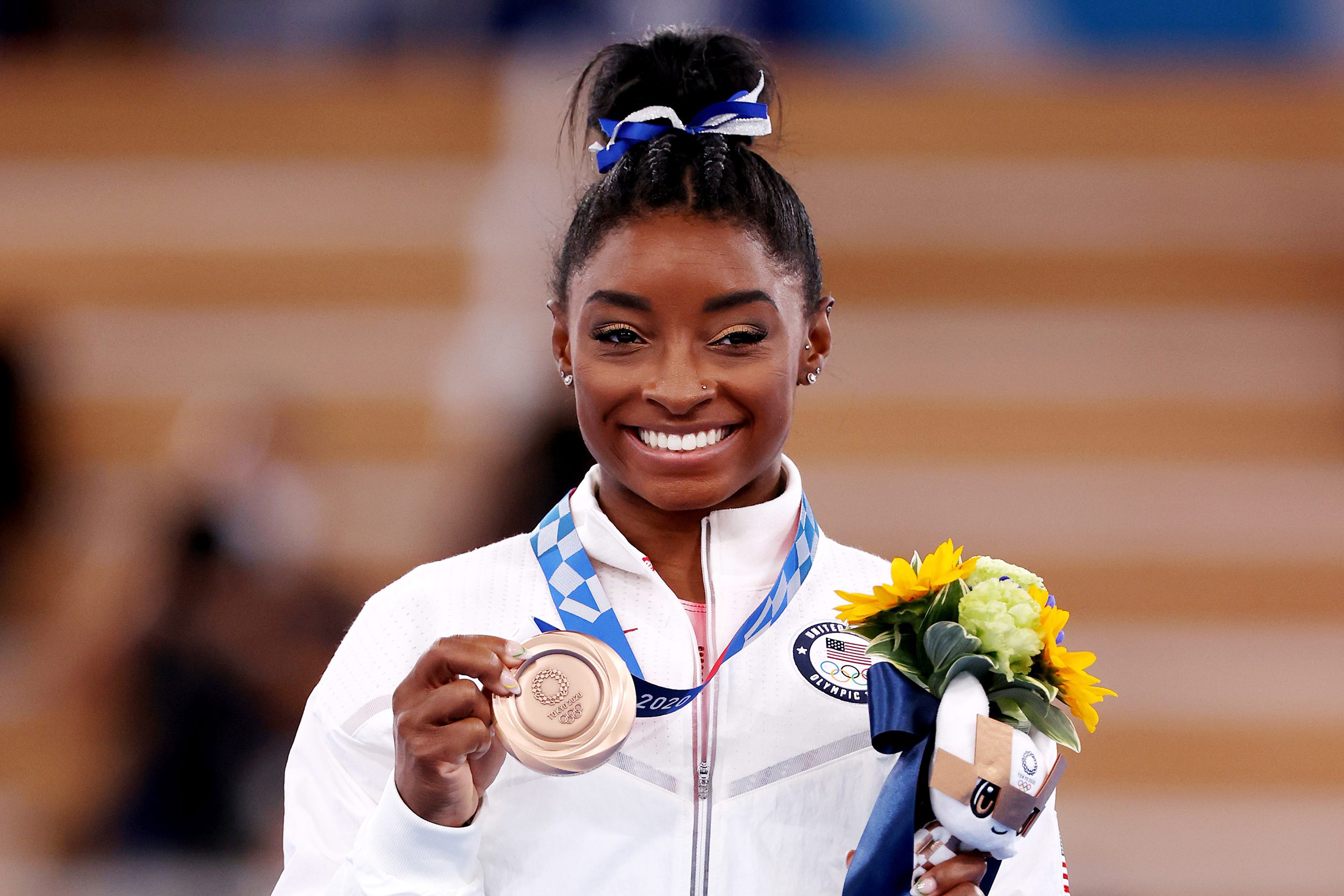 Conclusions
While the laws in Japan are extremely stringent when it comes to stimulants, they're slightly more lax about psychotropics, the class of drugs under which Ritalin is categorized. Athletes and non-athletes alike can apply for a Yakkan Shoumei – an "import certificate" allowing for the import of some otherwise prohibited drugs – that permits them to bring up to 2.16g of their methylphenidate into the country. If she filled out and submitted a Yakkan Shoumei, Biles was covered to continue taking Ritalin in Tokyo without fear of arrest. So while it's impossible to determine what has caused Biles' case of "the twisties," a lack of medication is almost certainly not to blame.
It looks like the weight Simone Biles carried as the face of the sport and the face of the nation had become a real issue and burden. It's unclear whether we'll ever see Biles in an Olympic game again. But no matter what she decides to do with the rest of her career, one thing is certain: By prioritizing her mental health and safety, and in turn, encouraging other athletes to do the same, Simone Biles remains the greatest gymnast of all time.
Updated 02/08/2022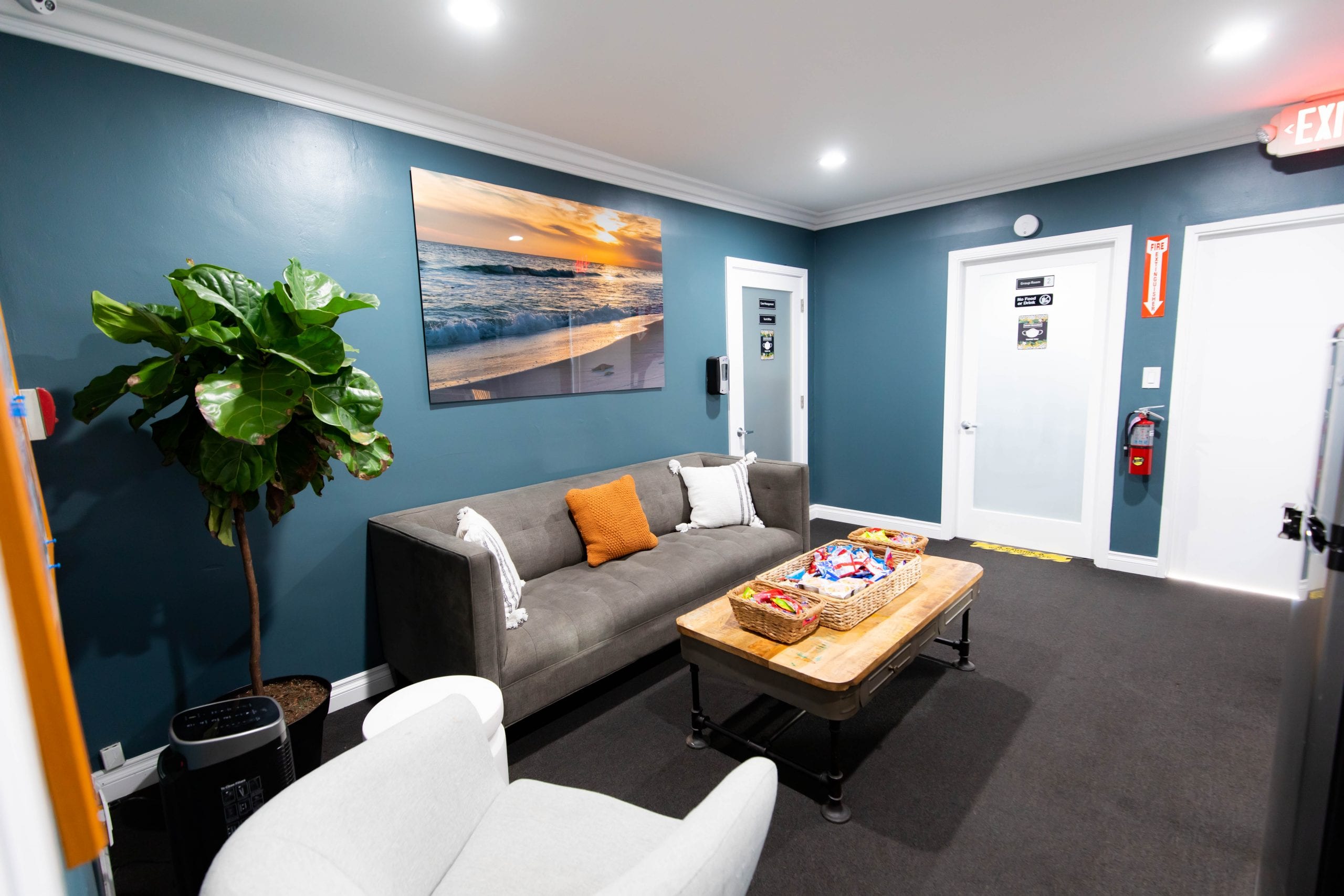 ADHD lasts into adulthood for at least one-third of children with ADHD. Treatments for adults can include medication, psychotherapy, education or training, or a combination of treatments. If you have ADHD, you may be unpredictable and forget appointments, miss deadlines, and make impulsive or irrational decisions. These behaviors can strain the patience of the most forgiving co-worker, friend, or partner. Therapy that focuses on these issues and ways to better monitor your behavior can be very helpful.  Couples therapy may significantly improve your relationships. Call us today!
Disclaimer: Overland IOP goal is to improve the quality of life for people struggling with substance use or mental health disorder by publishing engaging and educational content about the nature of behavioral health conditions, treatment options, and their related outcomes. The information we provide should not be treated as professional advice, is not intended to be a substitute for professional medical diagnosis or treatment. It should not be used in place of the advice of your physician or another qualified healthcare provider.
Published: August 09, 2021
Last Updated: February 15, 2022